Google Is Getting Rid of Expanded Text Ads (ETAs)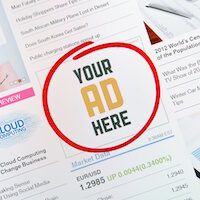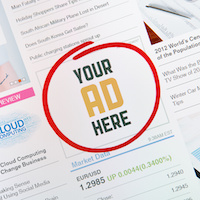 Recently one of our clients forwarded us an email titled "Re: Say Goodbye to Local Ads."
This headline is simply misleading. The email title says local [service] ads (LSAs) are disappearing within Google. This is not true. There are no changes in the LSA platform. The email really refers to a change within Google Ads – a different ad platform.
The only major change coming to search functions is getting rid of Expanded Text Ads (ETAs) within Google Ads. By June 30, 2022, ETAs will not be available as an option to create within the platform.
In our blog, we expand upon this recent change and what this means for advertisers.
What is the Change Exactly?
With the coming of AI, Google Ads rolled out the Responsive Search Ad (RSA) in 2018. The platform then made it the default ad to create a couple of years after while making ETAs the non-default ad. And by July of 2022, the creation and editing of ETAs will be completely disallowed. ETAs are not completely phased out at this point as they can be enabled and paused as long as they have been created.

This is significant because both ad types are quite different. Although they appear the same (above image), the way each ad displays is different.
RSAs allow for over 15 headlines per ad, whereas ETAs allow 3 written headlines. Then for the ad to show, Google picks between 2 and 3 headlines to feature. So there are many more options with RSAs. The artificial intelligence technology can determine the most relevant combination to serve searchers. The same can be seen when comparing descriptions. RSAs have 4 descriptions RSAs while ETAs have 2.
Why the Change, Google?
ETA best practices include testing multiple ones to determine the best-performing ad. Advertisers manually A/B test ads and evaluate performance to generate a better ROI.
With the move toward artificial intelligence, Google has decided to take matters into its own hands. Google has decided to move entirely to RSAs.
With RSAs, Google Ads can pick one of the many headlines and descriptions. Then through the selection, it delivers an appropriate ad based on the searchers' intent. RSAs offer more flexibility that ETAs cannot, as they can better adapt to a myriad of other factors.
What does this mean for advertisers?
The move to RSA has been met with some criticism. The switch would entail less granular control for advertisers. However, it does allow more room to focus on creativity and strategy rather than the minutiae that can accompany the optimization of a PPC campaign. Google takes the stance that machine learning can improve campaign performance. More flexibility will ultimately lead to more clicks and conversions. There is better adaptability to ever-evolving consumer behaviors. Consumer needs and priorities constantly shift over time. Even the best advertisers could not continually keep up with best practices. RSAs give machine learning mechanisms more to work with.
Additionally, the use of Responsive Search Ads will also allow for better performance as Google recommends using them. It will allow ads to better compete in auctions and show up higher in searches.
Tips for Using RSAs
Since RSAs will be the only way to create ads moving forward we included quick tips to keep in mind when using responsive search ads.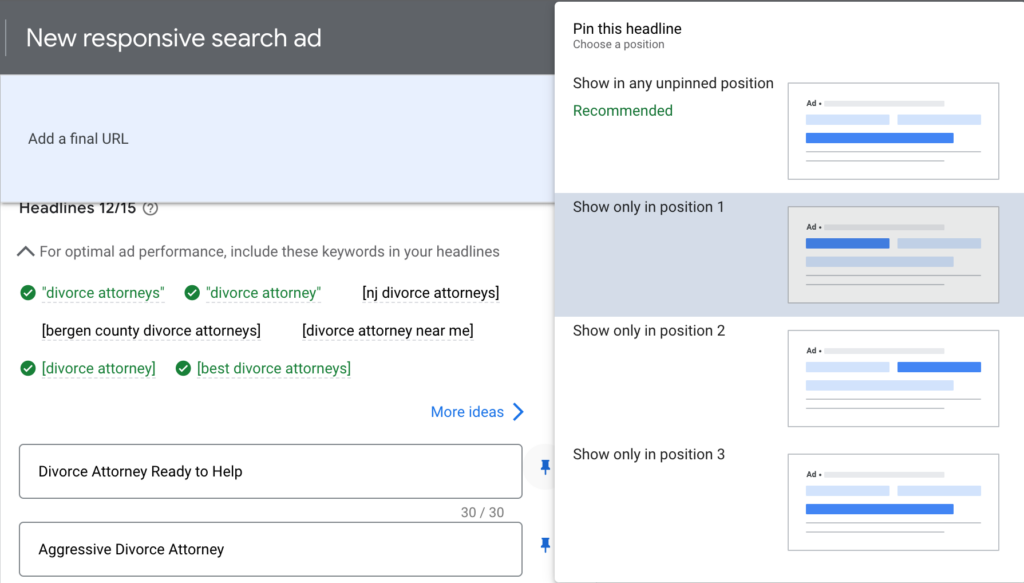 Pin Important HeadlinesWhen creating RSAs, it is best to pin down certain headlines. The pin down feature allows for certain headlines to show up in designated places within an ad. Refer to the above image for the pinned feature.
Write concise and unique headlines: The best headlines are to the point and vary enough for testing purposes.
Test and utilize strong assets (headlines/descriptions): After getting enough data it's best to cycle out less effective headlines. Then create new headlines similar to the high-performing ones.
Use calls-to-action: To have higher conversions and clicks it's best to use headlines that incite action. This is especially true for product and service ads.
Highlight unique product/service features: If you offer a special promotion for your product or service, it'll help your ad stand out and perform better.
Conclusion
The change over to only responsive search ads will not ultimately affect PPC strategy. Although there is less granular control, advertisers can save more time managing accounts, less effort with splitting tests, and more focus on strategy.
Need help with your PPC efforts? NextClient is a digital marketing agency that can help with your on-line marketing needs today. Contact us for a free consultation today.