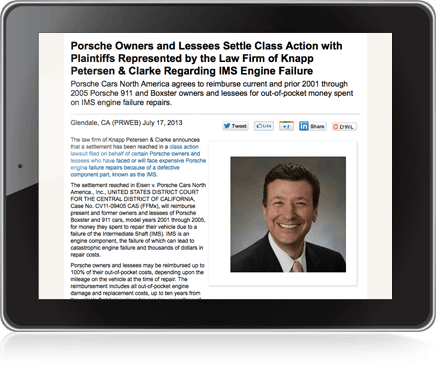 Press Releases for Legal Marketing
Getting publicity for your active law practice has always been a challenge. One easy way to get in front of the news is to create and distribute your own news. Whether you just won a verdict for your client, spoke at a legal seminar, received an award of distinction in your community, participated in a fundraising event for a public charity, or simply just launched a legal blog or redesigned your law firm website, publishing your news will generate visibility for your law firm.
Our staff of attorney writers will write the copy for your press release based on information you supply. Your press release will be subject to your approval prior to submission for distribution.
With our lawyer press release writing and distribution service, your professionally-written law firm news is optimized for search engine visibility and can include your profile photograph, law firm videos or other multi-media files. Our PR for Lawyers service can be bundled with other NextClient services to provide a cost-effective solution to your law firm Internet marketing.
Contact us to find out how easy and cost-effective our Press Release for Lawyers service can be.