Google Screened for Lawyers
Managed Local Service Ads for your law firm
When searching through competing attorneys in your area on Google, you may have noticed a checkmark next to their names at the top. The checkmark gives more trust and can increase online exposure. You may be wondering how you might get one as an attorney.
After all, Google Screened ads also have the added benefit of showing at the top of search results. They show above pay-per-click ads, local search results, and organic links.
To get approved you have to be eligible based on practice area and location, pass background checks, and more. When approved, management of the ad will require staying on top of leads to achieve a higher ranking.
If you need help in the 'Google Screened' process, NextClient can help you today. Contact us for a free consultation.
To learn more about 'Google Screened' and local service ads (LSAs), continue reading our article.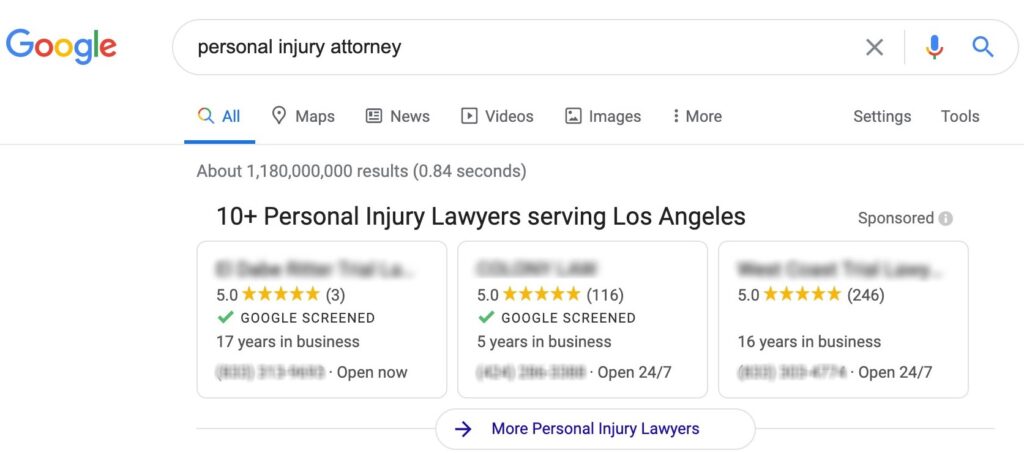 History
A few years ago, Google decided to roll out a consumer protection feature. With the use of the checkmark, users can place more trust in attorneys, as they have been vetted by Google. Google Screened was first introduced as the Google Guaranteed program, at the time showing up with home improvement services. Since then, it has rolled out to other service-oriented businesses. It expanded to lawyers in late 2019, first with immigration and estate planning attorneys. Google also integrated the program to show up with local service ads (LSAs). LSAs are featured at the top of the search results page for service search terms.
Benefits of Google Screened
Besides showing up at the top of search results, there are other benefits that make 'Google Screened' attractive. For one, it's a powerful lead generation tool. You only pay for the leads that you get through calling and messaging. Other older forms of digital advertising have you pay in the form of clicks. This is great news for attorneys and other service-oriented businesses, where business starts over the phone and through messaging.
Additionally, being 'Google Screened' makes you appear as more trustworthy to first-time buyers. Someone looking for an attorney can see the checkmark next to your name. Users know that you've gone through extensive background and license checks to get approved. So they feel more confident with calling and doing business with your firm. This means a higher click-through rate and more engagement with your services.
Being 'Google Screened' as a lawyer has the specific added benefit of having a profile picture in the ad. Contrastingly, other home services such as HVACs don't have a profile picture and have to pay a $50 monthly fee. Other home services show up as 'Google Guaranteed.' Refer to the picture below to see the 'Google Guaranteed' listing lacking the profile picture.
Signing Up
Before signing up for local service ads, you first have to check for eligibility. By plugging in your practice area and zip code, Google will let you know if your service is available for LSAs. Local service ads have expanded to include:
Bankruptcy lawyers
Business lawyers
Contract lawyers
Criminal lawyers
Disability lawyers
DUI lawyers
Estate lawyers
Family lawyers
Immigration lawyers
IP lawyers
Labor lawyers
Litigation lawyers
Malpractice lawyers
Personal Injury lawyers
Real Estate lawyers
Tax lawyers
Traffic lawyers
After checking for eligibility, Google will have you sign up for an account and provide various items such as:
a headshot (with specific guidelines)
bar membership information
proof of insurance
background checks
form of ID
and more
They will also pull info from your Google My Business listing to create your ad. The approval for your local service ad takes a few days, while getting the checkmark or getting the Google Screened badge can take between 3-6 weeks. The time frame is mostly dependent on the background check. One wrong thing on your app can prolong the application process.
Ranking Factors
Even after you have signed up and been approved for an LSA, it is not guaranteed you will show up at the top of the results. It's important to keep this in mind because only the first three firms are shown after a search (e.g. for a personal injury lawyer).
Ranking factors include:
User reviews: getting more reviews and higher ratings.
Google Screened: background checks approved, checkmark next to firm name.
Business info: a complete profile on local service ads, with features, etc.
Proximity: offering the service close to the user's location.
Response time and quality: responding to inquiries, disputing spam or fake leads, and answering phone calls.

Help with Local Service Ads and Google Screening for Lawyers
At NextClient, we can help set up and maintain your local service ad so you can show up as 'Google Screened.' We offer digital marketing services and can help you come up with a marketing plan that works with your firm's needs. Call us at 800-410-6398 for a free consultation today.