PPC vs. SEO: Which is Best For Your Law Firm's Marketing Strategy?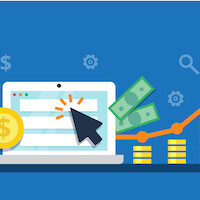 Search Engine Optimization (SEO) and Pay-Per-Click (PPC) are essential elements of digital marketing. Both are important for a sound digital marketing plan. Understanding the differences between the two can help you integrate the right strategy.
In essence, SEO offers free traffic, but it takes more time and effort to put into practice. PPC, on the other hand, does not offer free traffic or lasting results. The results for PPC, however, are much more immediate.
While the above may be unclear at the moment, our blog further discusses the two strategies. The following sums up the blog discussion:
Defining SEO and PPC
The Benefits/Cons of SEO
The Benefits/Cons of PPC
Benefits of Using SEO/PPC in tandem
SEO or PPC for your Business
Defining SEO and PPC
SEO is the process of increasing the visibility of your website or a webpage to users of a search engine. By generating high-quality content over time, Google will recognize the website as authoritative.
While PPC strategy also increases traffic to your website, it does so through paid ads. For Google, PPC users bid over keywords to gain a position in the search results. Below you can see the visual differences from the user standpoint.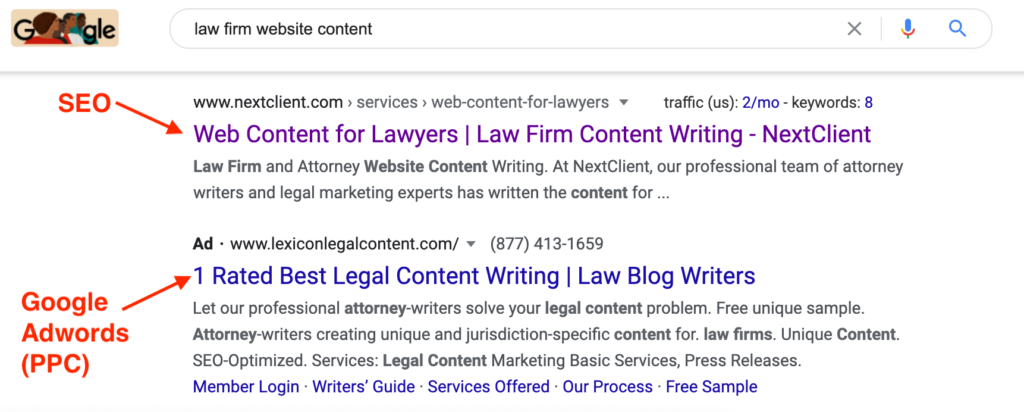 Now that you have a general sense of the two strategies, we will discuss the pros and cons of SEO and PPC.
Benefits of SEO
Cost: SEO is nothing to implement yourself if you have the knowledge and expertise. It does not require any purchase to use the strategy.
Sustainable: Web traffic is sustainable once a good strategic position is established. This is especially true if you rank particularly well for high-volume keywords.
Increased Clicks: The higher you rank, the more clicks you will get. #1 rankings receive 33% of the clicks, while 1st-page rankings receive 90% of the web traffic.
Good Return on Investment (ROI): The returns you get for investing in SEO, when done correctly, are great. Sustainability allows you to reap the ROI benefits once you hit a certain level. This is especially true once your firm has a strategic placement in the search results.
Increased Scope: SEO allows a wider net for search queries and keywords. As your site gains trust over time, Google will associate your firm with similar keywords.
Increased Credibility: Your brand will have higher trust with SEO. Users will trust your brand with higher search engine rankings.
Cons of SEO
Amount of Time/Effort: SEO takes time and effort to implement. It takes as much time to get to the top as it takes to stay there. Depending on how competitive a keyword is, it can take many weeks and months to see the fruits of your labor.
Competitive: SEO is competitive. It is difficult to get a ranking for many commercial keywords that would yield a payout. Think back to how 90% of users click on results on the first page. That makes it difficult to compete as a newcomer and see early results. Competing with well-established companies that dominate a large space becomes difficult, too.
Requires Unique, Authoritative Content: To be effective in SEO, you need to be an expert in your field to be able to produce content. For example, you would not want to get legal advice from a regular blogger who did not study the law. Google takes this into account as well. This particular point can be positive if you write content in an area in which you are an expert.
The dollar return invested in SEO makes it worthwhile as an investment, but takes a long time to grow in the long run. That is where the implementation of PPC can be beneficial to an initial boost in your campaign.
Benefits of PPC
Faster Results: Optimization of an ad can see more immediate results.
Position: Ads are located at the top and bottom of the page.
Space (Real Estate): Ads have the potential to occupy more space than organic results. The below example is from the keyword, 'dropshipping.' Shopify has many links and plenty of space for their descriptions and titles. Obviously, the ad has been well-optimized.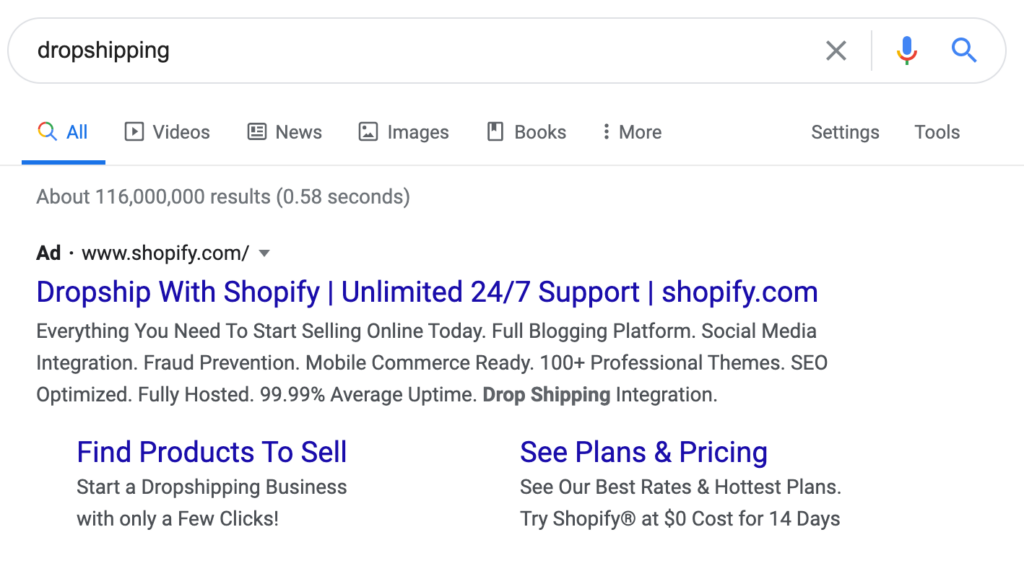 Conversions: Targeted and optimized ads drive high conversions. The above ad is very clear with its intent.
Tight Control: You have tight granular control over ads. You can control your budget for the day, the keywords you show up for, how much you bid, and more.
A/B Testing: With tighter control, PPC is a great way to test different ideas to see which work and which do not.
Marketing Intelligence: You can get marketing intelligence with access to data and scope. This will allow for more informed decisions.
Cons of PPC
Expensive: Ad spend can skyrocket very easily. Especially since ad costs are calculated on the number of clicks. This can be seen if you were to target your ads to many countries and use expensive keywords. The below picture shows an example of this expense: showing over 60 dollars a click for a first page ranking for 'medical malpractice lawyer'. Typically a conversion or lead can cost at least 8 to 12 times the cost per click value, which amounts to $500 to $700.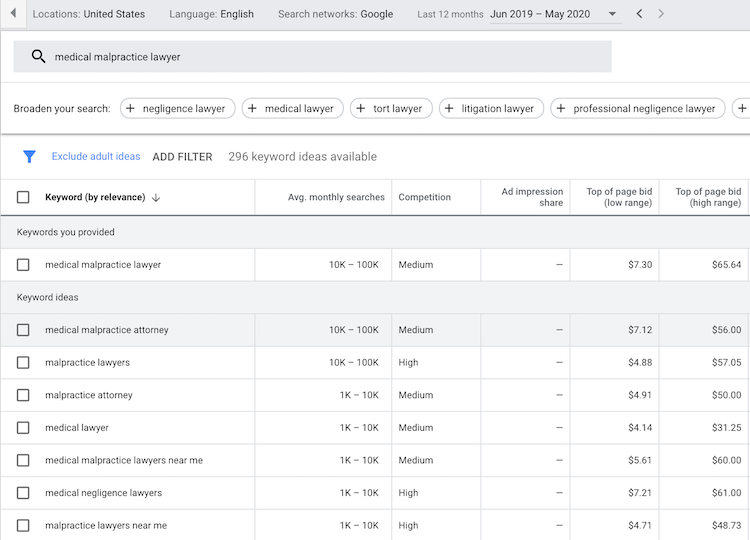 Constant Investment: Because you have to pay on a click-basis, the PPC model requires constant investment. Therefore, in order to maintain steady business you have to continually invest in PPC if you heavily rely on the strategy.
Copying of your ads: Another downside to PPC is people copying your ads. After coming up with a well-crafted message, you may find people copying your ad copy. As a result, best practices change overnight and require relatively regular maintenance.
Benefits of Using Both SEO & PPC
Using both strategies in tandem has benefits. There is the obvious benefit of traffic from both sources. Additionally, you can leverage specific data from each strategy to inform one another.
On the SEO side, it will allow you to optimize your site with good performing keywords and phrases. For PPC, you can use SEO tools like Google Search Console to capture unintended keywords. You can then add those keywords to the PPC campaign.
Another added benefit is the exposure effects and higher conversion rates. The exposure effect will build awareness and confidence. This will lead the audience to more likely look at your company as a credible source.
Employing both SEO and PPC will allow the potential audience to see both your ad and organic result. Additionally, retargeting efforts can also help with capitalizing on the exposure effect. Using PPC in tandem with SEO allows you to target ads to previous website visitors.
SEO or PPC For Your Business?
Our marketing agency suggests implementing both for your business. Of course, how much you use each strategy depends on your specific business needs.
We recommend a stronger SEO approach for a local business with little competition. With less competition for keywords, you will see quicker and more profitable returns. As long as your customers are using Google to find businesses, you should be in good shape.
However, if you're in a more competitive area and industry, we would instead recommend focusing on PPC. It's good as it will also give that initial boost. Over time, as you gain more traction and become more competitive, the firm can leverage more SEO. This means you have the option to rely less on paid ads as a source for new clients.
In summary, combining PPC with SEO, you can reap benefits from the best of both worlds. PPC is shorter-term and yields more visitors and leads more immediately. While SEO is longer-term, it is more sustainable in terms of growth and transitioning to a more hands-off approach. You can move from one strategy to the other, depending on where your business stands.
If you find yourself stuck with how you want to invest and implement your SEO and PPC efforts, our firm can help your business strategize according to your needs. Contact us for a free consultation today.