Google Suspended Local Listings: Why & What to Do (For Lawyers)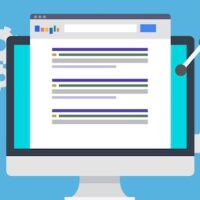 Picture this situation.
You're a lawyer. You notice the number of calls you received during the week is less than normal. So you decide to do a quick check-in with your firm. You also see that your business does not show up on Google Maps.
That's odd. Something must be wrong.
So, with a quick diagnostic, you log in to your Google My Business (GMB). You find the dreaded words near your listing, 'Suspended.'
Business owners often voice their frustrations about their suspended listings on Google forms. Additionally, this happened to one of our clients during a GMB purge in mid-February of this year. Yes, an algorithm sweep can also prompt mass suspensions.

So what does it mean if Google took down your local listing? It means you have violated their terms, and you have to fix the listing to have it reinstated.
The kicker is Google will not tell you when you have your listing suspended. They will suspend you without any notice. And if you ask, they won't tell you why they suspended your listing.
So, we will definitely get into the Why. However, it's important to understand some basics first.
The Basics
There are a few different types of suspensions to be familiar with.
Soft vs. Hard Suspensions
Soft Suspension
The Listing is still on Google, but you can't manage the listing via Google My Business. The listing is unverified. The "suspended" label is still there.
Hard Suspension
Your listing will not show up on Google anymore.
Below is an example of an active listing. (You can find the listing here as well).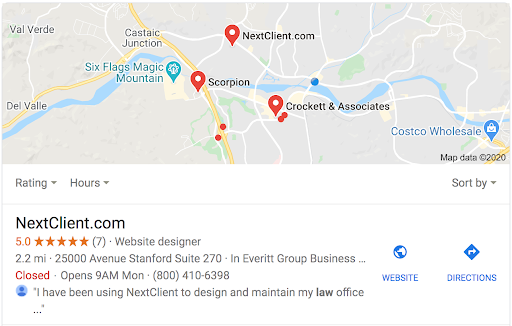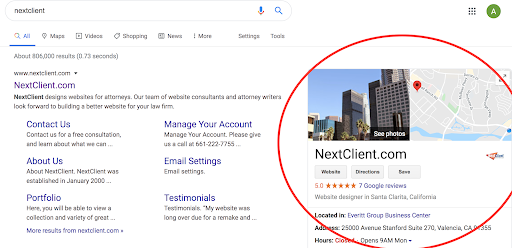 Listing vs. Account Suspension
Listing Suspension:
Google has suspended the listing and it is inaccessible to the public. Owners and managers of the listing can make changes to the listing. Additionally, they can request to have Google reinstate the listing. With approval, Google will reinstate the listing owners and managers.
Account Suspension:
The owner, along with the listings of the accounts, are suspended. If they reinstate the account, the listings will be reinstated. But, if Google suspends a manager, the listing will remain unaffected. The manager will regain access to the listing when Google reinstates them.
Now, let's dive into some common reasons for listing suspensions.
Common Reasons Google Suspended Your Listing
1. Keywords in Your Business Name
Google will take down your business if you have keywords in your name. If it is your actual name, provide the documentation to Google when they ask. However, if you are stuffing keywords in your name, this is a spammy practice to Google.
2. Business name, address and phone number aren't accurate and consistent across the web
This includes matching your contact info and address on your website. Additionally, info on other directories including Avvo and Yelp must be consistent. If your address or phone number is different from what's on your listing, this can prompt suspension.
3. A recent change made to an address, category, business name, website, phone number
Changes to your address are especially prone to account suspension. It's best to be prompt and take care of the suspension. Provide documentation of your old address and new address.
4. Listing your law firm or business as 24 hours, when you're not staffed 24 hours
Many personal injury law firms list their business as 24 hours. Only do so when you are staffed in the office for the whole 24 hours. Answering calls for 24 hours doesn't matter; Google wants to know when your store is physically open. Your competitors can report you if they find out this information.
5. Another Business shares your address
You may share the same address as another business. Any virtual office, coworking space or listing a PO Box can lead to suspension. Although these office arrangements are a lot cheaper, reinstatement is very difficult. Google asks for a lot of evidence in order to get reinstated.
Other common reasons for Suspension include:
You have a forwarding URL (redirect)
Your business is an online store; no physical contact
Service area business, didn't disable physical address
Multiple businesses claiming to be your business
What to Do If Your GMB Listing is Suspended
If you still can't figure out why your listing is suspended, your next step would be to reach out to Google. Google often suspends listings in their algorithmic sweeps. Wait times will tend to be longer in those cases.

After some time, you should receive an email back. If Google rejects your appeal, they will clarify which policy you are in violation of. The proof Google will ask for varies, depending on the case.
Google will ask for proof, which can include the following:
An image providing storefront with address and signage, if an office building
A Business License
A Utility Bill
Submit photos for proof not sharing an office space
Removing owners or managers from your Google My Business. Especially those engaged in spammy practices
Change name on Google My Business to match signage
If you find Google is slow to respond, you can try posting on Local Search Forum or messaging Google My Business on their Twitter page. Having your proof handy when Google is able to reply to you can also help expedite your case.
Preventing a GMB Suspension
It is always best to keep information consistent across all platforms (website, directories and GMB listing). Restrict access to the business listings to current employees. Previous vendors and employees could harm your listing.
Keeping a close eye on your listing is important so that you can handle the situation sooner.
Need Help Managing Your Google Listing?
We are familiar with Google's guidelines and local SEO. As part of our SEO package, we help manage Google listings, particularly for law firms.